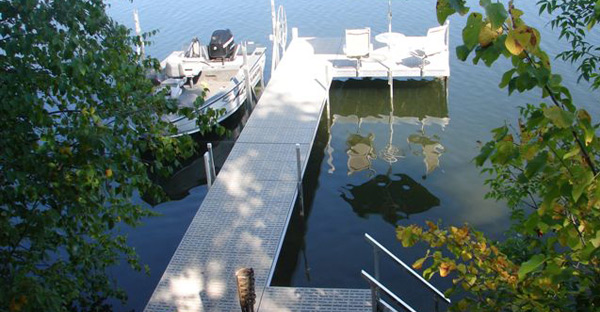 Beach King docks from Fish Lake Dock and Lift vary in width from 3ft to 8ft wide, and Beach King Sun Decks can be as large as you need. We offer 8ft, 12ft, 16ft, 20ft, and 24ft standard length dock sections. It is important to consider that the fewer splices, or sections you use on your roll in dock, the stronger it will be.
Fish Lake Dock and Lift offers both roll-in style and sectional style docks from Beach King Inc.
Choose from a multitude of decking options and ask Fish Lake Dock and Lift about our in stock availability of your preferred  Beach King decking style and color.
Beach King offers a true 15 year warranty right down to the welds.
Beach King Docks from Fish Lake Dock and Lift in Harris Minnesota are a great investment for you and your family. Fish Lake Dock and Lift carries all standard Beach King Dock systems and we can work with you to provide a custom solution from Beach King Inc. to fit your unique waterfront needs.
Standard Beach King dock frames from Fish Lake Dock and Lift are 2" wide by 7" tall and only require dock legs every 16ft. Because the Beach King Dock frame is welded together instead of bolted together, you get a stronger and sturdier dock. For a nice design touch or to allow more space for relaxing on the dock, or more room for boarding your boat or pontoon, consider adding a sun deck from Beach King. Beach King sun decks can be welded to your dock frame, or bolted on (making them removable), and a welded sun deck is more stable then a bolted sun deck.
The axle and support legs can be either on the inside or on the outside of the Beach King Dock frame, and your Beach King Dock height can be adjusted in three different ways; set bolt adjustment, screw jack adjustment, or winches that slide on top of the legs. Fish Lake Dock and Lift can help you choose the system that is right for you.
Accessories can be added, removed, and adjusted as easy as 1, 2, 3

Beach King's dock extrusion allows you to add, remove and adjust your accessories quickly and easily.
Adding new accessories to your dock as your docking needs change is as easy as 1, 2, 3.
BEACH KING DOCK ACCESSORIES
Get a quote on a Beach King Dock Today!