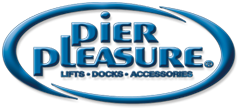 Pier Pleasure Exclusive Features: Sectional Dock System
We invite you to take a look at our quality workmanship and design. We go the extra mile to meet or exceed your expectations. Extra effort is given to remove defects, sharp edges and corners. This ensures safety, maintains quality standards, and assures your satisfaction.
Our dock systems offer many features and benefits not found in any other dock system. These unique features make them simple to install, level, and remove.
Sectional Dock - Each section ramps up or down!
Stability Each dock section is designed to hold 60 lbs. of water in its 100% welded frame. This feature adds stability and helps to hold the dock system in place during storms, high winds, and strong wave action. The water is drained by removing the plugs under each section before removal in the fall.
The 4' x 8' sections are connected end-to-end and side-to-side by our own unique interlocking hinge. The first sections can form a ramp up or down allowing for formation to any shoreline terrain. For maximum stability the dock legs are braced from front-to-back and from side-to-side. If you have steps, a retaining wall, or another dock and connect our dock, the Starter Hinge will give you the start you need.
Our dock legs are braced from side-to-side and front-to-back for maximum stability. There are no leg posts above the dock surface and the legs do not need to be removed. This makes installation, removal, and storage easier. It also maintains a clean appearance.
Functionality, Durability & Flexibility
Pier Pleasure's adjustable legs allow leveling from the top of the dock without entering the water. Each leg levels independently and there are no set screws or holes to line up. The leg adjustment carries a full lifetime 
warranty
.
Height indicators on each leg make leveling easy and accurate. The indicators show you the distance from the top of the dock to the surface of the water. All bolts, pins, and fasteners in the dock system are stainless steel which means no corrosion, no maintenance, and long-term clean appearance.
Our sectional dock systems design flexibility allows for virtually unlimited layout options and additional sections can be easily added at any time to customize your dock layout to fit your needs as they change.